University Symbols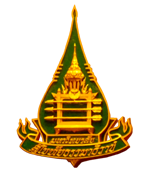 Crest: 
The university crest features three arrows placed horizontally beneath a crown framed by the pinnacle of a cone-shaped stupa. The three arrows are taken from the official seal of King Rama VII, while the stupa is the symbol of the ancient kingdom of Sukhothai. His Majesty King Bhumibol Adulyadej, granted permission for the symbol to be used as the university's official crest.

Colors: 
The university colors are green and gold. Green is the color Thais traditionally associate with Wednesday, the day on which King Rama VII was born, while gold represents good fortune.

Tree: 
Parichat or Tong Lang Lai; Variegated Tiger Claw or Variegated Coral (Erythrina variegata) was chosen as the university tree because the leaves are dark green with gold-colored veins.